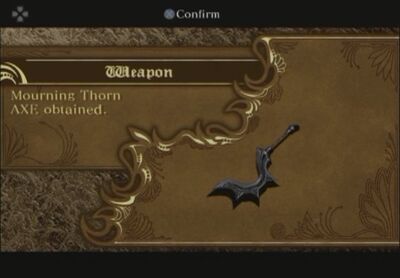 Mourning Thorn
, originally called
Sorrow's Splinter
, is a weapon in
Drakengard
.
Traits
Drakengard 2
Excels at ground-sweep attacks, but hard to use.
Drakengard 3
An elven sword bound by sadness.
Magic
Drakengard
Spirit's Blood: Summons the power of the elements of fire and water.
Drakengard 2
Voice of the Guilty: Summons the spirits of the dead to torment the enemy.
Found
Drakengard
Drakengard 2
Chapter 7, Verse 6 (Chest Item).
Drakengard 3
Lost Verse 3 - Shop (756000 Gold).
Combos
Drakengard 2
Tornado Dance: The standard seven-hit attack combination of all axes.
Evil's Doom: In this combination, Urick spins his axe to build momentum before crashing it to the ground, sending a shockwave over a short distance in front of him.
Fury's Outburst: A short, but powerful, attack combination where Urick sprints forward, slowly winds up, then spins his axe in a powerful 360-degree motion.
Fury's Frenzy: This combination has a wide-sweeping attack.
Weapon History
Level 1
"I'm so hungry..."
The hobgoblin decided to help his boss as he always did. Usually he had to get food by helping out with various odd jobs, but today he would get a meal without having to do anything at all. An attack on a human village was planned for the following evening, and a hearty meal was provided in a preparation.
Level 2
So they charged into battle, expecting a swift victory. But the humans repelled their attack with great determination, and the fight raged on. In the midst of the carnage, the hobgoblin fell into a shallow well. There he found a magnificent scythe. It was the failed creation of a demented magician.
Level 3
The scythe was designed to increase its wielder's desire to win. In reality, however, it brought out other uncontrollable desires in its wielder. Deemed useless, it had been thrown into the well. The hobgoblin climbed out of the well with the scythe in his hands. Hungry for food and blood, he began to kill humans left and right.
Level 4
But the scythe's power soon began to overwhelm the hobgoblin. When all of the humans were dead, he began to bite and maim the other goblins. Even murdering and eating the entirety of his own tribe failed to satiate his appetite, and finally he slit his own throat with the scythe. It was later found by a beautiful elf.
Level 1
Why did I lose my child? Why did my child have to die? Why must I bear this punishment?
Level 2
All the other children survived. Why did mine perish? Theirs should have died, too! Every last one of them! ...No. I mustn't think this way! They are all precious.
Level 3
We must protect my lost child, and all the others, too. But this world is chaos and strife. How can we hope to safeguard the children? The precious, precious children.
Level 4
To protect them, I must join them. But there are so many. Wait. I know. I must chew them up. Chew them all. Open my mouth and chew all the pretty baaaaaabieeeeees...
Community content is available under
CC-BY-SA
unless otherwise noted.