"
Ah, my pact-partners, the gnomes. Mere children, but they love to inflict pain on humans. Innocence can be a deadly weapon.

— Yaha

"
The Gnomes are the elemental spirits who are Yaha's pact partners.
They first appear in the Hallowed Light chamber in the District of Precious Light. They are a horde of 40 goblin-like creatures that wear gardening attire and carry plows as weapons. Yaha describes them as children, and very hostile creatures.
They mostly attack in the groups as they are too weak to fight an opponent alone and are very vulnerable to magic. They are skilled burrowers and can cast powerful earth magic. They also have the ability to combine together to form a rock giant. The rock giant form is capable of devastating physical attacks and is resistant to magic. After their battle with Nowe the gnomes were all killed, and Yaha, being their pact-partner, died with them.
Gallery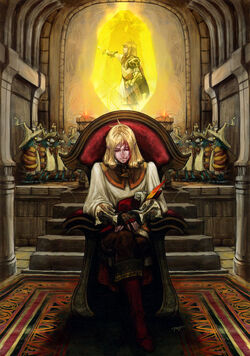 Community content is available under
CC-BY-SA
unless otherwise noted.