Drag-On Dragoon Utahime Five, translated as Drakengard: Five Intoners, is the second comic serialization for Drakengard 3, the other being Drag-On Dragoon Shi ni Itaru Aka. This comic has a slightly lighter tone.
Plot
The story takes place when One and her sisters are children. They use their powers to try to be a band of wandering superheroes. Their first case has the group help a mother search for her young daughter who went missing in Land of Sands. One and company raid the castle only to find the children's remains. The Intoners then punish the castle lord, Bass.
They leave the Land of Sands to head towards the Capital. On the boat ride, One is dragged overboard by a kraken-like monster. She defeats it and arrives to an unknown island. A dragon watches her.
Characters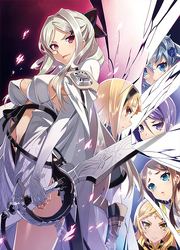 Intoners and Friends
Lords of the Land
These are the characters who rule over each region of the world and their allies.
Arch Enemies
The ultimate enemies of the Intoner Five.
Gallery
External Links
Trivia