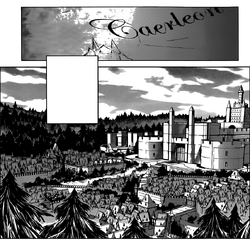 Caerleon
(

カールレオン

Kārureon)
 was a small eastern kingdom. While small, the land was fertile, and capable of supporting its people without need to conquer other lands. It was very close to the Goddesses' Castle, enough that you could travel between the two in a horse-drawn carriage.
Caerleon is only featured in the Drag-On Dragoon Shi ni Itaru Aka and Drag-On Dragoon Judgement manga.
Story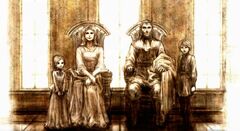 The country was home to Caim and Furiae, whose father was the eighth King in line, Gaap. It is said that Gaap had an affair with Asherah, the woman that was the Goddess at the time.
One day before Caim's eighteenth birthday, Furiae and her maid, Shirley, collect flowers for the occasion in a nearby area, when they are suddenly attacked by someone infected with the Red Eye disease. They are saved by One, who is wounded in the battle. Nero (One's companion) shows up and after the girls insist that One needs help, carries him to the castle. They are welcomed there as guests and the saviours of the Princess, but the King and Queen are left uninformed of their presence.
Some time after One's wounds have been tended, Nero attempts to rape Furiae, but One stops him just in time. Nero decides to rape Shirley instead. Shortly after, Shirley contracts the Red Eye disease. The disease quickly spreads throughout the castle and even the kingdom, turning the entire populace into mindless beasts. Later, a black dragon that follows One around kills Caim's parents.
Trivia
On a real map of Europe, Caerleon would be situated somewhere between Poland, Hungary and Slovakia.
Community content is available under
CC-BY-SA
unless otherwise noted.