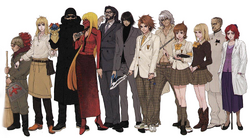 Angelegna DOD Alternative ~Fuuin Gakuen~ (エンジェレグナ DOD ALTERNATIVE ~封印学園~) is a parody game concept that was first published in the Drag-on Dragoon 2 ~Memory of Blood~ materials book on November 25, 2005. It made another appearance in the DOD 10th Anniversary -World Inside- book. Kimihiko Fujisaka created the character designs and the mock screenshots.
Angelegna was conceived by the DOD2 development team for their personal amusement. Visuals were made simply to be a bonus for DOD2's materials book, a move which surprised Akira Yasui in his commentary for the gag. The chances of the concept being put into actual development are 0.01%.
It is pitched as a dating sim which places the DOD2 characters at Seal Academy, a contemporary school setting. The description jokingly notes that there are eleven possible romantic endings, meaning that every character would have had a personal route with Nowe.
Dengeki Online conducted a follow up interview series to their character popularity poll with series's producer Takamasa Shiba and series's character designer Kimihiko Fujisaka. The Dengeki interviewer asked if there were any real plans to make Angelegna into a game, noting that it was a popular fan request in their questionnaire. While both Shiba and Fujisaka were amused by the nostalgic reference, Shiba remarked that Angelegna was quickly scrambled together in the waiting time before the game's public sales date and not meant to be taken seriously; actual production of the project would be difficult now since the timing for it would've been best shortly after DOD 2. He would personally enjoy the birth of a DOD school spin-off, though developing it would be another matter altogether. Fujisaka commented that he didn't spend too much time on the Angelegna designs as a result. They praised Manah, Legna, and Angel's designs during the interview.
Characters
The main cast have slightly altered character descriptions.
Gallery